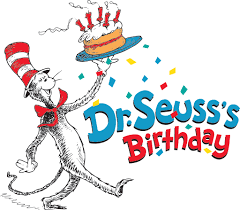 Read Across America Week
Susan Caldwell
Wednesday, February 26, 2020
Read Across America
March 2-6, 2020
Crazy Sock Monday
In honor of the book Fox in Socks,
On Monday, wear crazy or mismatched socks.
Ms. Brazil will read to Kindergarten classes.
Terrific Hat Tuesday
In honor of the book The Cat and the Hat, On Tuesday, you may wear
a hat to school. It can be an ordinary hat or an extraordinary one… you choose!
Wacky Wednesday
In honor of the book If I Ran the Zoo, On Wednesday, wear something with animal print or animal T-shirt to school.
College and Career Thursday
In honor of the book Oh the Places You'll Go, On Thursday, you may wear a college shirt or dress
up to look like the career of choice. No costumes allowed.
Red and Blue Friday
In honor of the book One Fish, Two Fish, Red Fish, Blue Fish,
On Friday, you may wear red and/or blue to school.
Wax Museum presented by fourth grade students.